Units
Illinois-China History 中文
The University of Illinois Urbana-Champaign has enjoyed more than a century of close engagement with the People's Republic of China.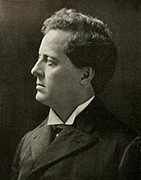 University President Edmund J. James (1904-1920) is largely credited with promoting this relationship by establishing ties with the Chinese Minister to the United States, Wu Tingfang during his tenure. Together they formed a connection between China and the Urbana campus that resulted in an influx of students from China that remains robust to this day. In fact, between 1910 and 1950, one third of all Chinese students who came to the United States to pursue a higher education chose to attend the University of Illinois Urbana-Champaign. James also established the first office for foreign students in the United States and had Wu Tingfang deliver the 1908 commencement address, a rarity for the times.
In a 1906 journal article, James wrote that "the nation which succeeds in educating the young Chinese of the present generation will be the nation which, for a given expenditure of effort, will reap the largest possible returns in moral, intellectual, and commercial influence."
James also convinced President Theodore Roosevelt to create the Boxer Indemnity Scholarship Program, which used funds paid by China to the United States following the 1901 Boxer Rebellion to support Chinese students studying here.
Following the end of the Cultural Revolution, many Chinese students seeking to study abroad chose the University of Illinois Urbana-Champaign because of its history of welcoming students earlier in the century. That familiarity—coupled with the university's reputation for providing a world-class education—has made the University of Illinois Urbana-Champaign the top destination for Chinese students coming to the United States, topping all other universities in the country.
In addition, the university maintains many inter-institutional agreements with partner universities in China, including the collaboration with Zhejiang University, whose new Haining International Campus aims to represent some of the most prestigious universities in the world by discipline. The College of Engineering has been selected to provide the training for engineering students based on its reputation for having one of the top engineering programs in the world. The collaboration is being widely hailed for its innovative approach to internationalized education, with students spending time on both campuses as they earn their degree.