The Illinois International Annual Report provides a "snap shot" of the accomplishments and activities of Illinois International during the 2021-22 academic year. This report also recognizes the generous support of our donors who gave between July 1, 2021, and June 30, 2022.


Global Impact
By the numbers.
---


116
Countries were represented by the university's international student population
during the 2021-2022 academic year


11,014
International students, faculty, staff, and scholars studied or worked at the university during the 2021-2022 academic year


42
international students representing 15 countries studied at the Intensive English Institute during the Spring 2022 semester, one of the largest cohort's ever


11
Students participated in the 2021-2022 KAUST Gifted Student Program (KGSP)
Foundation Year hosted by Global Education and Training
Celebrating Connections
A message from Vice Provost Mabokela.
---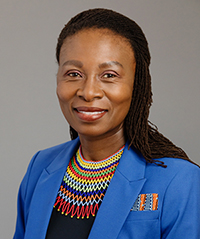 This past academic year was full of meaningful moments. We resumed study abroad activities and intensified our efforts to offer in-person programming to our global community. In pursuit of our university's global mission, we celebrated the longevity of existing relationships and created new strategic connections with several partners, with a particular focus on the Global South. We welcomed a record-breaking first-year class with students from 45 U.S. states and 42 countries. And finally, we closed the academic year by hosting our first in-person graduation in nearly two years. These moments, both big and small, are ones we cannot take for granted.
As we look ahead to the next academic year, we look forward to launching Vision 2030: Illinois' Global Strategy. Vision 2030 identifies five actional strategies that the university will undertake to respond to current challenges, emerging global trends, and the United Nations Sustainable Development Goals. Illinois International will host a Global Summit to launch Vision 2030 on October 19, 2022. We hope you will join us.
On behalf of the entire Illinois International team, I wish to extend my sincerest thanks to our partners, collaborators, and donors for their tremendous support this year. I am grateful for your ongoing commitment to Illinois International.
Reitumetse Obakeng Mabokela, Ph.D.
Vice Provost for International Affairs & Global Strategies
Professor: Education Policy, Organization and Leadership
SUPPORTED BY
Generous donations from our global community.
---

Donors
Thanks to the generous gifts from alumni and friends, Illinois International will award $300,000+ in study abroad scholarships, global research fellowships, and travel grants this coming year.

Scholarships
Named and memorial funds will enable Illinois International to award 20+ scholarships to Illinois undergraduate and graduate students pursuing educational opportunities inside and outside the U.S.

Students
Student fees contribute to the Illinois for Illinois Scholarship Fund, which supports undergraduate students pursuing educational experiences abroad in more than 50 countries.
IN CASE YOU MISSED IT
A highlight reel of our favorite stories from the past year.
---
Thank you to our supporters!

Donors

Students & Alumni

Families & Friends

Faculty & Staff